Faerie Fire
Level 1 Evocation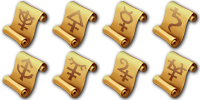 C
Duration
Up to 1 minute
Each object in a 20-foot cube within range is outlined in blue, green, or violet light (your choice). Any creature in the area when the spell is cast is also outlined in light if it fails a Dexterity saving throw. For the duration, objects and affected creatures shed dim light in a 10-foot radius.
Any attack roll against an affected creature or object has advantage if the attacker can see it, and the affected creature or object can't benefit from being invisible.

Verbal Component:
Ignis Nympharum
Bard, Druid, Artificer
Print on 8.5"x11" paper. For best results, use the following printer settings: Print at 100% (do not shrink, or enlarge); Turn on "print with background graphics;" hide "header and footer" (if given the option); and turn on "Borderless printing" (Internet Explorer). Best to print in color. Note: Microsoft Edge DOES NOT support printing background colors or images, so we do not recommend printing the cards in the browser.