Foresight
Level 9 Divination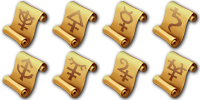 You touch a willing creature and bestow a limited ability to see into the immediate future. For the duration, the target can't be surprised and has advantage on attack rolls, ability checks, and saving throws. Additionally, other creatures have disadvantage on attack rolls against the target for the duration.
This spell immediately ends if you cast it again before its duration ends.

Material Component:
a hummingbird feather

Verbal Component:
Providentia
Bard, Druid, Warlock, Wizard
Print on 8.5"x11" paper. For best results, use the following printer settings: Print at 100% (do not shrink, or enlarge); Turn on "print with background graphics;" hide "header and footer" (if given the option); and turn on "Borderless printing" (Internet Explorer). Best to print in color. Note: Microsoft Edge DOES NOT support printing background colors or images, so we do not recommend printing the cards in the browser.