Gentle Repose
Level 2 Necromancy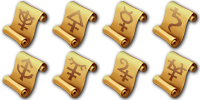 R
Casting Time
1 action
You touch a corpse or other remains. For the duration, the target is protected from decay and can't become undead.
The spell also effectively extends the time limit on raising the target from the dead, since days spent under the influence of this spell don't count against the time limit of spells such as raise dead.

Material Component:
a pinch of salt and one copper piece placed on each of the corpse's eyes, which must remain there for the duration

Verbal Component:
Putrefacio Desisto
Cleric, Wizard, Rogue
Print on 8.5"x11" paper. For best results, use the following printer settings: Print at 100% (do not shrink, or enlarge); Turn on "print with background graphics;" hide "header and footer" (if given the option); and turn on "Borderless printing" (Internet Explorer). Best to print in color. Note: Microsoft Edge DOES NOT support printing background colors or images, so we do not recommend printing the cards in the browser.