Hypnotic Pattern
Level 3 Illusion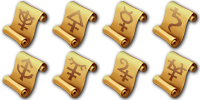 Range
120 ft (30 ft cube)
C
Duration
Up to 1 minute
You create a twisting pattern of colors that weaves through the air inside a 30-foot cube within range. The pattern appears for a moment and vanishes. Each creature in the area who sees the pattern must make a Wisdom saving throw. On a failed save, the creature becomes charmed for the duration. While charmed by this spell, the creature is incapacitated and has a speed of 0.
The spell ends for an affected creature if it takes any damage or if someone else uses an action to shake the creature out of its stupor.

Material Component:
a glowing stick of incense or a crystal vial filled with phosphorescent material
Bard, Sorcerer, Warlock, Wizard, Rogue
Print on 8.5"x11" paper. For best results, use the following printer settings: Print at 100% (do not shrink, or enlarge); Turn on "print with background graphics;" hide "header and footer" (if given the option); and turn on "Borderless printing" (Internet Explorer). Best to print in color. Note: Microsoft Edge DOES NOT support printing background colors or images, so we do not recommend printing the cards in the browser.