Light
Evocation Cantrip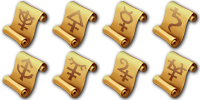 Range
Touch (20 ft sphere*)
You touch one object that is no larger than 10 feet in any dimension. Until the spell ends, the object sheds bright light in a 20-foot radius and dim light for an additional 20 feet. The light can be colored as you like. Completely covering the object with something opaque blocks the light. The spell ends if you cast it again or dismiss it as an action.
If you target an object held or worn by a hostile creature, that creature must succeed on a Dexterity saving throw to avoid the spell.

Material Component:
a firefly or phosphorescent moss

Verbal Component:
Luminas
Bar, Cler, Sor, Wiz, Rog, Art
Print on 8.5"x11" paper. For best results, use the following printer settings: Print at 100% (do not shrink, or enlarge); Turn on "print with background graphics;" hide "header and footer" (if given the option); and turn on "Borderless printing" (Internet Explorer). Best to print in color. Note: Microsoft Edge DOES NOT support printing background colors or images, so we do not recommend printing the cards in the browser.