Mending
Transmutation Cantrip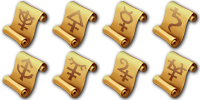 This spell repairs a single break or tear in an object you touch, such as a broken chain link, two halves of a broken key, a torn cloak, or a leaking wineskin. As long as the break or tear is no larger than 1 foot in any dimension, you mend it. leaving no trace of the former damage.
This spell can physically repair a magic item or construct, but the spell can't restore magic to such an object.

Material Component:
two lodestones

Verbal Component:
Medeis Sarcio
Bar, Cler, Dru, Sor, Wiz, Rog, Art
Print on 8.5"x11" paper. For best results, use the following printer settings: Print at 100% (do not shrink, or enlarge); Turn on "print with background graphics;" hide "header and footer" (if given the option); and turn on "Borderless printing" (Internet Explorer). Best to print in color. Note: Microsoft Edge DOES NOT support printing background colors or images, so we do not recommend printing the cards in the browser.