Mind Blank
Level 8 Abjuration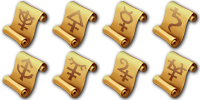 Until the spell ends, one willing creature you touch is immune to psychic damage, any effect that would sense its emotions or read its thoughts, divination spells, and the charmed condition. The spell even foils wish spells and spells or effects of similar power used to affect the target's mind or to gain information about the target.

Verbal Component:
Inanis Mentis

Verbal Component (Alternative):
Divination, this hex I bind; a mystic force that hides the mind.
Bard, Wizard
Print on 8.5"x11" paper. For best results, use the following printer settings: Print at 100% (do not shrink, or enlarge); Turn on "print with background graphics;" hide "header and footer" (if given the option); and turn on "Borderless printing" (Internet Explorer). Best to print in color. Note: Microsoft Edge DOES NOT support printing background colors or images, so we do not recommend printing the cards in the browser.