Rary's Telepathic Bond
Level 5 Divination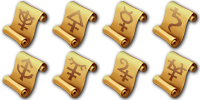 R
Casting Time
1 action
You forge a telepathic link among up to eight willing creatures of your choice within range, psychically linking each creature to all the others for the duration. Creatures with Intelligence scores of 2 or less aren't affected by this spell.
Until the spell ends, the targets can communicate telepathically through the bond whether or not they have a common language. The communication is possible over any distance, though it can't extend to other planes of existence.

Material Component:
pieces of eggshell from two different kinds of creatures

Verbal Component:
Iungo Menti Coniunctum
Wizard
Print on 8.5"x11" paper. For best results, use the following printer settings: Print at 100% (do not shrink, or enlarge); Turn on "print with background graphics;" hide "header and footer" (if given the option); and turn on "Borderless printing" (Internet Explorer). Best to print in color. Note: Microsoft Edge DOES NOT support printing background colors or images, so we do not recommend printing the cards in the browser.