Regenerate
Level 7 Transmutation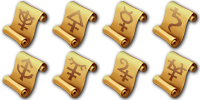 You touch a creature and stimulate its natural healing ability. The target regains 4d8 + 15 hit points. For the duration of the spell, the target regains 1 hit point at the start of each of its turns (10 hit points each minute).
The target's severed body members (fingers, legs, tails, and so on), if any, are restored after 2 minutes. If you have the severed part and hold it to the stump, the spell instantaneously causes the limb to knit to the stump.

Material Component:
a prayer wheel and holy water

Verbal Component:
Regenerati
Bard, Cleric, Druid
Print on 8.5"x11" paper. For best results, use the following printer settings: Print at 100% (do not shrink, or enlarge); Turn on "print with background graphics;" hide "header and footer" (if given the option); and turn on "Borderless printing" (Internet Explorer). Best to print in color. Note: Microsoft Edge DOES NOT support printing background colors or images, so we do not recommend printing the cards in the browser.