Reincarnate
Level 5 Transmutation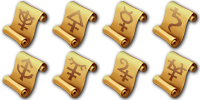 Touch a body/piece of a dead humanoid and the spell forms a new adult body for it (if the creature has been dead less than 10 day). If the target's soul isn't free to return, the spell fails. The DM rolls a d100 to determine the new form:
The reincarnated recalls its former life and experiences, retains it's capabilities, but changes its racial traits accordingly. See PHB for expanded details.

Material Component:
rare oils and unguents worth at least 1,000gp, which the spell consumes

Verbal Component:
Renascentia Quia Natus ut Alius
Druid
Print on 8.5"x11" paper. For best results, use the following printer settings: Print at 100% (do not shrink, or enlarge); Turn on "print with background graphics;" hide "header and footer" (if given the option); and turn on "Borderless printing" (Internet Explorer). Best to print in color. Note: Microsoft Edge DOES NOT support printing background colors or images, so we do not recommend printing the cards in the browser.