Sanctuary
Level 1 Abjuration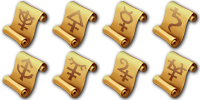 Casting Time
1 bonus action
You ward a creature within range against attack. Until the spell ends, any creature who targets the warded creature with an attack or a harmful spell must first make a wisdom saving throw. On a failed save, the creature must choose a new target or lose the attack or spell. This spell doesn't protect the warded creature from area effects, such as the explosion of a fireball.
If the warded creature makes an attack, casts a spell that affects an enemy, or deals damage to another creature, this spell ends.

Material Component:
a small silver mirror

Verbal Component:
Tribuo Adytum
Cleric, Artificer
Print on 8.5"x11" paper. For best results, use the following printer settings: Print at 100% (do not shrink, or enlarge); Turn on "print with background graphics;" hide "header and footer" (if given the option); and turn on "Borderless printing" (Internet Explorer). Best to print in color. Note: Microsoft Edge DOES NOT support printing background colors or images, so we do not recommend printing the cards in the browser.