Sending
Level 3 Evocation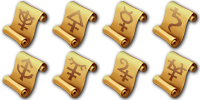 You send a short message of twenty-five words or less to a creature with which you are familiar. The creature hears the message in its mind, recognizes you as the sender if it knows you, and can answer in a like manner immediately. The spell enables creatures with Intelligence scores of at least 1 to understand the meaning of your message.
You can send the message across any distance and even to other planes of existence, but if the target is on a different plane than you, there is a 5 percent chance that the message doesn't arrive.

Material Component:
a short piece of fine copper wire

Verbal Component:
Missiculo (state the message)
Bard, Cleric, Wizard, Rogue
Print on 8.5"x11" paper. For best results, use the following printer settings: Print at 100% (do not shrink, or enlarge); Turn on "print with background graphics;" hide "header and footer" (if given the option); and turn on "Borderless printing" (Internet Explorer). Best to print in color. Note: Microsoft Edge DOES NOT support printing background colors or images, so we do not recommend printing the cards in the browser.