Shillelagh
Transmutation Cantrip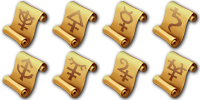 Casting Time
1 bonus action
The wood of a club or quarterstaff you are holding is imbued with nature's power. For the duration, you can use your spellcasting ability instead of Strength for the attack and damage rolls of melee attacks using that weapon, and the weapon's damage die becomes a d8. The weapon also becomes magical, if it isn't already. The spell ends if you cast it again or if you let go of the weapon.

Material Component:
mistletoe, a shamrock leaf, and a club or quarterstaff

Verbal Component:
Virgam di Naturae
Druid
Print on 8.5"x11" paper. For best results, use the following printer settings: Print at 100% (do not shrink, or enlarge); Turn on "print with background graphics;" hide "header and footer" (if given the option); and turn on "Borderless printing" (Internet Explorer). Best to print in color. Note: Microsoft Edge DOES NOT support printing background colors or images, so we do not recommend printing the cards in the browser.