Stone Shape
Level 4 Transmutation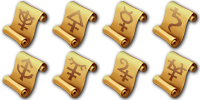 You touch a stone object of Medium size or smaller or a section of stone no more than 5 feet in any dimension and form it into any shape that suits your purpose. So, for example, you could shape a large rock into a weapon, idol, or coffer, or make a small passage through a wall, as long as the wall is less than 5 feet thick. You could also shape a stone door or its frame to seal the door shut. The object you create can have up to two hinges and a latch, but finer mechanical detail isn't possible.

Material Component:
soft clay, which must be worked into roughly the desired shape of the stone object

Verbal Component:
Facera Petra Forma
Cleric, Druid, Wizard, Rogue, Artificer
Print on 8.5"x11" paper. For best results, use the following printer settings: Print at 100% (do not shrink, or enlarge); Turn on "print with background graphics;" hide "header and footer" (if given the option); and turn on "Borderless printing" (Internet Explorer). Best to print in color. Note: Microsoft Edge DOES NOT support printing background colors or images, so we do not recommend printing the cards in the browser.