Transport Via Plants
Level 6 Conjuration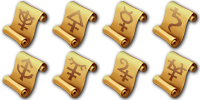 This spell creates a magical link between a Large or larger inanimate plant within range and another plant, at any distance, on the same plane of existence. You must have seen or touched the destination plant at least once before. For the duration, any creature can step into the target plant and exit from the destination plant by using 5 feet of movement.

Verbal Component:
Eo Pacto Herbas

Verbal Component (Alternative):
Magic now this place enchant, transport us now through this plant.
Druid
Print on 8.5"x11" paper. For best results, use the following printer settings: Print at 100% (do not shrink, or enlarge); Turn on "print with background graphics;" hide "header and footer" (if given the option); and turn on "Borderless printing" (Internet Explorer). Best to print in color. Note: Microsoft Edge DOES NOT support printing background colors or images, so we do not recommend printing the cards in the browser.