True Seeing
Level 6 Divination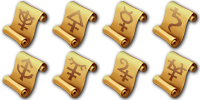 This spell gives the willing creature you touch the ability to see things as they actually are. For the duration, the creature has truesight, notices secret doors hidden by magic, and can see into the Ethereal Plane, all out to a range of 120 feet.

Material Component:
an ointment for the eyes that costs 25gp; is made from mushroom powder, saffron, and fat; and is consumed by the spell

Verbal Component:
Aparecia Vere
Bard, Cleric, Sorcerer, Warlock, Wizard
Print on 8.5"x11" paper. For best results, use the following printer settings: Print at 100% (do not shrink, or enlarge); Turn on "print with background graphics;" hide "header and footer" (if given the option); and turn on "Borderless printing" (Internet Explorer). Best to print in color. Note: Microsoft Edge DOES NOT support printing background colors or images, so we do not recommend printing the cards in the browser.