Shadow of Moil
Level 4 Necromancy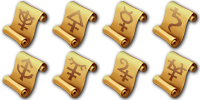 C
Duration
Up to 1 minute
Flame-like shadows wreathe your body until the spell ends, causing you to become heavily obscured to others. The shadows turn dim light within 10 feet of you into darkness, and bright light in the same area to dim light.
Until the spell ends, you have resistance to radiant damage. In addition, whenever a creature within 10 feet of you hits you with an attack, the shadows lash out at that creature, dealing it 2d8 necrotic damage.

Material Component:
an undead eyeball encased in a gem worth at least 150gp

Verbal Component:
Sie Vestium di Umbra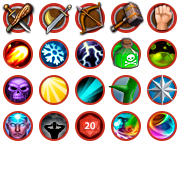 Warlock
Print on 8.5"x11" paper. For best results, use the following printer settings: Print at 100% (do not shrink, or enlarge); Turn on "print with background graphics;" hide "header and footer" (if given the option); and turn on "Borderless printing" (Internet Explorer). Best to print in color. Note: Microsoft Edge DOES NOT support printing background colors or images, so we do not recommend printing the cards in the browser.