Gust
Transmutation Cantrip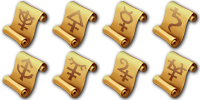 You seize the air and compel it to create one of the following effects at a point you can see within range:
One Medium or smaller creature that you choose must succeed on a Strength saving throw or be pushed up to 5 feet away from you.
You create a small blast of air capable of moving one object that is neither held nor carried and that weighs no more than 5 pounds. The object is pushed up to 10 feet away from you. It isn't pushed with enough force to cause damage.
You create a harmless sensory affect using air, such as causing leaves to rustle, wind to slam shutters shut, or your clothing to ripple in a breeze.

Verbal Component:
Facere Aeris Flatus
Druid, Sorcerer, Wizard, Rogue
Print on 8.5"x11" paper. For best results, use the following printer settings: Print at 100% (do not shrink, or enlarge); Turn on "print with background graphics;" hide "header and footer" (if given the option); and turn on "Borderless printing" (Internet Explorer). Best to print in color. Note: Microsoft Edge DOES NOT support printing background colors or images, so we do not recommend printing the cards in the browser.