Tidal Wave
Level 3 Conjuration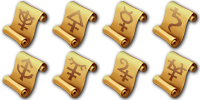 You conjure up a wave of water that crashes down on an area within range. The area can be up to 30 feet long, up to 10 feet wide, and up to 10 feet tall. Each creature in that area must make a Dexterity saving throw. On a failure, a creature takes 4d8 bludgeoning damage and is knocked prone. On a success, a creature takes half as much damage and isn't knocked prone. The water then spreads out across the ground in all directions, extinguishing unprotected flames in its area and within 30 feet of it.

Material Component:
a drop of water

Verbal Component:
Sie Fluctus Aqua Maxima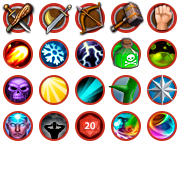 Druid, Sorcerer, Wizard, Rogue
Print on 8.5"x11" paper. For best results, use the following printer settings: Print at 100% (do not shrink, or enlarge); Turn on "print with background graphics;" hide "header and footer" (if given the option); and turn on "Borderless printing" (Internet Explorer). Best to print in color. Note: Microsoft Edge DOES NOT support printing background colors or images, so we do not recommend printing the cards in the browser.