Wall of Sand
Level 3 Evocation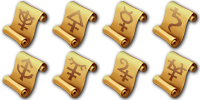 C
Duration
Up to 10 minutes
You conjure up a wall of swirling sand on the ground at a point you can see within range. You can make the wall up to 30 feet long, 10 feet high, and 10 feet thick, and it vanishes when the spell ends. It blocks line of sight but not movement. A creature is blinded while in the wall's space and must spend 3 feet of movement for every 1 foot it moves there.

Material Component:
a handful of sand

Verbal Component:
Sie Murus di Harenae
Wizard, Rogue
Print on 8.5"x11" paper. For best results, use the following printer settings: Print at 100% (do not shrink, or enlarge); Turn on "print with background graphics;" hide "header and footer" (if given the option); and turn on "Borderless printing" (Internet Explorer). Best to print in color. Note: Microsoft Edge DOES NOT support printing background colors or images, so we do not recommend printing the cards in the browser.