Warding Wind
Level 2 Evocation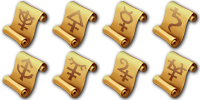 Range
Self (10 ft sphere)
C
Duration
Up to 10 minutes
A strong wind (20 miles per hour) blows around you in a 10-foot radius and moves with you, remaining centered on you. The wind lasts for the spell's duration.
The wind has the following effects:
It deafens you and other creatures in its area.
It extinguishes unprotected flames in its area that are torch-sized or smaller.
The area is difficult terrain for creatures other than you.
The attack rolls of ranged weapon attacks have disadvantage if they pass in or out of the wind.
It hedges out vapor, gas, and fog that can be dispersed by strong wind.

Verbal Component:
Tutello Ventus
Bard, Druid, Sorcerer, Wizard, Rogue
Print on 8.5"x11" paper. For best results, use the following printer settings: Print at 100% (do not shrink, or enlarge); Turn on "print with background graphics;" hide "header and footer" (if given the option); and turn on "Borderless printing" (Internet Explorer). Best to print in color. Note: Microsoft Edge DOES NOT support printing background colors or images, so we do not recommend printing the cards in the browser.