Puppet
Level 1 Enchantment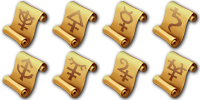 Your gesture forces one humanoid you can see within range to make a Constitution saving throw. On a failed save, the target must move up to its speed in a direction you choose. In addition, you can cause the target to drop whatever it is holding. This spell has no effect on a humanoid that is immune to being charmed.
Bard, Warlock, Wizard, Rogue
Print on 8.5"x11" paper. For best results, use the following printer settings: Print at 100% (do not shrink, or enlarge); Turn on "print with background graphics;" hide "header and footer" (if given the option); and turn on "Borderless printing" (Internet Explorer). Best to print in color. Note: Microsoft Edge DOES NOT support printing background colors or images, so we do not recommend printing the cards in the browser.