Sense Emotion
Level 1 Divination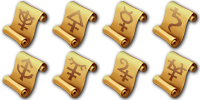 C
Duration
Up to 10 minutes
You attune your senses to pick up the emotions of others for the duration. When you cast the spell, and as your action on each turn until the spell ends, you can focus your senses on one humanoid you can see within 30 feet of you. You instantly learn the target's prevailing emotion, whether it's love, anger, pain, fear, calm, or something else. If the target isn't actually humanoid or it is immune to being charmed, you sense that it is calm.

Verbal Component:
Setire Sensus
Bard, Warlock, Wizard, Rogue
Print on 8.5"x11" paper. For best results, use the following printer settings: Print at 100% (do not shrink, or enlarge); Turn on "print with background graphics;" hide "header and footer" (if given the option); and turn on "Borderless printing" (Internet Explorer). Best to print in color. Note: Microsoft Edge DOES NOT support printing background colors or images, so we do not recommend printing the cards in the browser.