Ego Whip
Level 4 Enchantment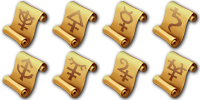 C
Duration
Up to 1 minute
You lash the mind of one creature you can see within range, filling it with despair. The target must succeed on an Intelligence saving throw or suffer disadvantage on attack rolls, ability checks, and saving throws, and it can't cast spells. At the end of each of its turns, the target can make another Intelligence saving throw. On a success, the spell ends on the target.

Verbal Component:
Flagello Mens
Bard, Sorcerer, Warlock, Wizard, Rogue
Print on 8.5"x11" paper. For best results, use the following printer settings: Print at 100% (do not shrink, or enlarge); Turn on "print with background graphics;" hide "header and footer" (if given the option); and turn on "Borderless printing" (Internet Explorer). Best to print in color. Note: Microsoft Edge DOES NOT support printing background colors or images, so we do not recommend printing the cards in the browser.