Comprehend Languages
Level 1 Divination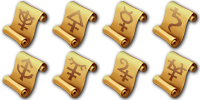 R
Casting Time
1 action
For the duration, you understand the literal meaning of any spoken language that you hear. You also understand any written language that you see, but you must be touching the surface on which the words are written. It takes about 1 minute to read one page of text.
This spell doesn't decode secret messages in a text or a glyph, such as an arcane sigil, that isn't part of a written language.

Material Component:
a pinch of soot and salt

Verbal Component:
Legibilus Linguas
Bard, Sorcerer, Warlock, Wizard, Rogue
Print on 8.5"x11" paper. For best results, use the following printer settings: Print at 100% (do not shrink, or enlarge); Turn on "print with background graphics;" hide "header and footer" (if given the option); and turn on "Borderless printing" (Internet Explorer). Best to print in color. Note: Microsoft Edge DOES NOT support printing background colors or images, so we do not recommend printing the cards in the browser.