Borrowed Knowledge
Level 2 Divination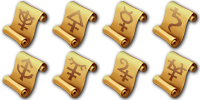 You draw on knowledge from spirits of the past. Choose one skill in which you lack proficiency. For the spell's duration, you have proficiency in the chosen skill. The spell ends early if you cast it again.

Material Component:
a book worth at least 25 gp

Verbal Component:
Mutuari Perdita Scientia

Verbal Component (Alternative):
Grant me knowledge, grant me skill; Let this task bend to my will
Bard, Cleric, Warlock, Wizard
Print on 8.5"x11" paper. For best results, use the following printer settings: Print at 100% (do not shrink, or enlarge); Turn on "print with background graphics;" hide "header and footer" (if given the option); and turn on "Borderless printing" (Internet Explorer). Best to print in color. Note: Microsoft Edge DOES NOT support printing background colors or images, so we do not recommend printing the cards in the browser.