Silvery Barbs
Level 1 Enchantment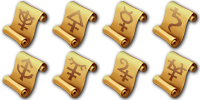 You magically distract the triggering creature and turn its momentary uncertainty into encouragement for another creature. The triggering creature must reroll the d20 and use the lower roll.
You can then choose a different creature you can see within range (you can choose yourself). The chosen creature has advantage on the next attack roll, ability check, or saving throw it makes within 1 minute. A creature can be empowered by only one use of this spell at a time.

Verbal Component:
Argenteus Verbus
Bard, Sorcerer, Wizard
Print on 8.5"x11" paper. For best results, use the following printer settings: Print at 100% (do not shrink, or enlarge); Turn on "print with background graphics;" hide "header and footer" (if given the option); and turn on "Borderless printing" (Internet Explorer). Best to print in color. Note: Microsoft Edge DOES NOT support printing background colors or images, so we do not recommend printing the cards in the browser.