Jim's Glowing Coin
Level 2 Enchantment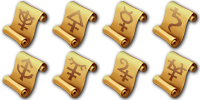 Of the many tactics employed by master magician and renowned adventurer Jim Darkmagic, the old glowing coin trick is a time-honored classic. When you cast the spell, you hurl the coin that is the spell's material component to any spot within range. The coin lights up as if under the effect of a light spell. Each creature of your choice that you can see within 30 feet of the coin must succeed on a Wisdom saving throw or be distracted for the duration. While distracted, a creature has disadvantage on Wisdom (Perception) checks and initiative rolls.
Note: 2 gp is a royalty component and disappears from the casters inventory when the spell is cast.

Material Component:
a coin and 2 gp
Wizard, Rogue
Print on 8.5"x11" paper. For best results, use the following printer settings: Print at 100% (do not shrink, or enlarge); Turn on "print with background graphics;" hide "header and footer" (if given the option); and turn on "Borderless printing" (Internet Explorer). Best to print in color. Note: Microsoft Edge DOES NOT support printing background colors or images, so we do not recommend printing the cards in the browser.