Death Ward
Level 4 Abjuration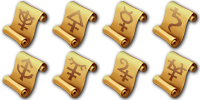 You touch a creature and grant it a measure of protection from death.
The first time the target would drop to 0 hit points as a result of taking damage, the target instead drops to 1 hit point, and the spell ends.
If the spell is still in effect when the target is subjected to an effect that would kill it instantaneously without dealing damage, that effect is instead negated against the target, and the spell ends.

Verbal Component:
Mor Scutum Protectio
Cleric, Paladin
Print on 8.5"x11" paper. For best results, use the following printer settings: Print at 100% (do not shrink, or enlarge); Turn on "print with background graphics;" hide "header and footer" (if given the option); and turn on "Borderless printing" (Internet Explorer). Best to print in color. Note: Microsoft Edge DOES NOT support printing background colors or images, so we do not recommend printing the cards in the browser.