Destructive Wave
Level 5 Evocation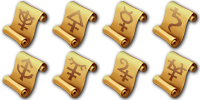 Range
Self (30 ft sphere)
You strike the ground, creating a burst of divine energy that ripples outward from you. Each creature you choose within 30 feet of you must succeed on a Constitution saving throw or take 5d6 thunder damage, as well as 5d6 radiant or necrotic damage (your choice), and be knocked prone. A creature that succeeds on its saving throw takes half as much damage and isn't knocked prone.

Verbal Component:
Fluctu di Excidium

Verbal Component (Alternative):
By my oath, a spell most grave, I cast out a destructive wave.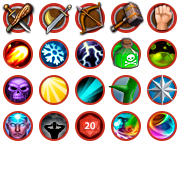 Paladin
Print on 8.5"x11" paper. For best results, use the following printer settings: Print at 100% (do not shrink, or enlarge); Turn on "print with background graphics;" hide "header and footer" (if given the option); and turn on "Borderless printing" (Internet Explorer). Best to print in color. Note: Microsoft Edge DOES NOT support printing background colors or images, so we do not recommend printing the cards in the browser.